Ploey – You Never Fly Alone is our first animated family feature film and premiered in Iceland on February 2, 2018.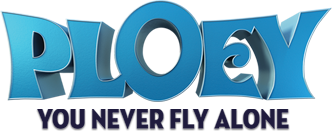 Unable to migrate south, a young plover must survive the arctic winter and vicious enemies to be united with his loved ones next spring. 
The screenplay is written by Fridrik Erlingsson, our long-time partner widely known for his story Benjamin Dove and his script for Iceland's first ever full feature animated film 'Legends of Valhalla – Thor'. The film is produced by Hilmar Sigurdsson and Haukur Sigurjónsson of GunHil is project manager. Árni Ólafur Ásgeirsson directs and Gunnar Karlsson visually created and co-directed.
Ploey is a co-production between GunHil and Cyborn, a long established CGI Animation studio in Belgium, where Ives Agemans Co-Directs and Produces.
World sales are by ARRI Media.
The official trailer for the film is below.
The most recent teaser for the film is here:
A film like Ploey wouldn't be possible without backing from great film funds and film financiers. We thank you for your support!

The current poster for the film is used for the Marché Du Film in Cannes in spring 2017 for the first time: