The Beacon
A group of young journalists fight against corruption, major private interests and each other in a society with no desire to change
The story takes place in Reykjavik circa 1980. Sigurvin, an ambitious MP for a small political party with an even smaller periodical has had enough of the mutual back scratching, censorship and corruption in Icelandic society. Virtually all echelons of the media either serve as a mouthpiece for the parties or have given in to political interference.
Sigurvin convinces the party leader to heed the call of the times for independent journalism. Nobody reads the periodical besides its collective members although it finances showing profit because of money that Parliament allocates to the parties. The surplus should be allocated, he suggests, to a new "independent" weekly publication in the spirit of ne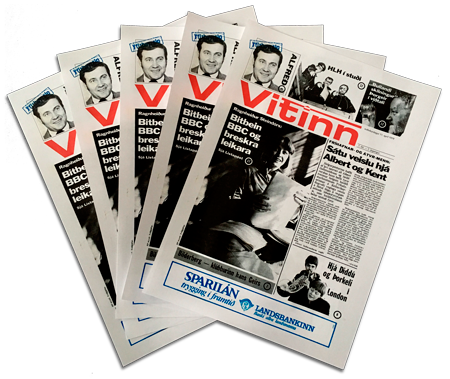 w journalism that is so respected in western media in the seventies.
To edit the paper, he approaches two young but experienced journalists, Kolbeinn and Alfreð, who are tired of their jobs at a political party publication and the national news agency respectively. They are different personalities but both have studied abroad, experience these media trends and have discussed between themselves the necessity for independent investigative journalism in Iceland. They accept the idea on the condition that the paper remains anti-establishment despite initially operating using establishment funding. They employ several young journalists from different backgrounds – among them, and with a key role, is the investigative journalist Gunnar, having just returned to Iceland after a period abroad where he obtained a university degree in the subject. Investigative journalism is in the forefront at the paper, as well as lighter subjects and cultural coverage that serves as some kind of "justification" for the cases of scandal, and to give the paper more weight and dignity.
The new publication, which is called The Beacon, is well received and it exposes various scandals and crimes. The main thread running through the whole series is Gunnar's investigation into the privatization of the state-run airline and the political and financial corruption associated with it. It is to become The Beacon's greatest victory but in the end, it is also its downfall. The publication is in dire financial straits and the bank and the party get the staff to take over financial responsibility for it. Their troubles do not reduce as a result and internal and external conflicts between the characters and their interests cause chaos and conflict at the paper. In the end, the very criminals that The Beacon sought to expose end up taking over operations.
But although harsh reality has conquered over naïve idealism for a time, it continues to live on.
– – –
The Beacon
6 x 50′ TV Series – also available as 3 x 90′ – 2018
Story by: Árni Thorarinsson & Ingólfur Margeirsson
Scripts by: Árni Thorarinsson, Hallur Ingólfsson and Hjálmar Hjálmarsson
Director: T.B.A.
Producer: Hilmar Sigurdsson – GunHil Ltd.
Script & Development support: Icelandic Film Centre